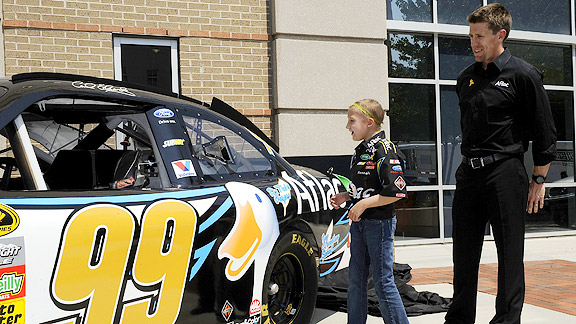 Courtesy of Carl EdwardsHannah Layfield and Carl Edwards check out the design of Edwards' car for Sunday's race.
Carl Edwards loves to talk about perspective.
"Ten years ago, I was living in my mother's basement," said the 32-year-old Edwards, who grew up in Missouri and now is one of the top drivers in NASCAR. "People laughed at me when they heard what I wanted to do for a living. But now I'm living my dream."
Saturday, Edwards won the Nationwide Series race at Atlanta Motor Speedway, and Sunday the fourth-ranked driver will compete in Sprint Cup's AdvoCare 500. It's been a good few weeks for Edwards as he recently re-signed with Roush-Fenway Racing to continue driving his No. 99 Aflac Ford Fusion for about $40 million.
"I have to remember that my life isn't normal. My family had so much difficulty supporting me a few years ago," said Edwards, who started dirt track racing in 1997 and moved through every level before making it to the biggest stage. "They weren't sure this auto racing thing would work out. They just didn't have the money to do it. It was a pretty stressful time. Now it's time for me to give back."
Edwards, along with sponsor Aflac, have teamed to support this year's National Childhood Cancer Awareness Month. As part of the company's "Friends of a Feather" campaign, Edwards will drive a specially painted car in Sunday's race. The design features duck feathers from front to back inscribed with names of the many unsung heroes who have gone the extra mile for 12-year-old Hannah Layfield, a patient at the Aflac Cancer Center and Blood Disorders Service at Children's Healthcare of Atlanta. Hannah, like so many children facing cancer, has an army of devoted people who have stood by her and her family during her multiple bouts with leukemia.
"I was a kid who grew up with normal problems. It's nothing like what these kids are going through," said Edwards, who visits the center often when he's in town. "They have so much humility and strength. I mistakenly thought I would be there to inspire them. But in fact, it's the opposite. They show me strength."
Over the past 15 years, Aflac has helped raise more than $65 million to help end childhood cancer. In its latest campaign, on Aflac's Facebook page, fans can make donations, and Aflac will double the amount.
"This is an amazing program. I don't give back nearly enough. I haven't taken the time that I should, and I want to change that," Edwards said. "When you look at what these kids are going through, you realize that just trying to be a race car driver isn't as important as just trying to live. It's all about perspective."