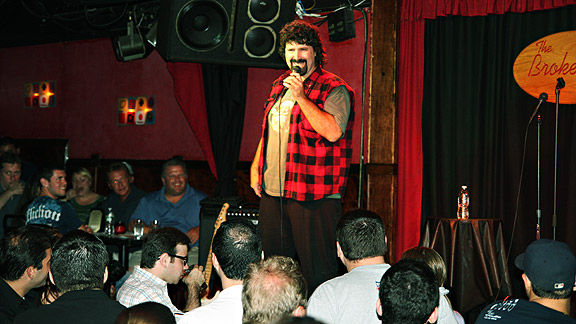 Joe Defino Pro wrestling legend Mick Foley is now trying his hand at comedy.
BELLMORE, N.Y. -- Mick Foley took the stage recently at The Brokerage Comedy Club wearing his trademark flannel shirt over several layers of self-deprecation.
Pro wrestling's "Hardcore Legend", who is also a best-selling author, is seeking a third career as a stand-up comic, and is willing to take an emotional pummeling that would put his bruises from Dominic DeNucci's wrestling school to shame.
On a recent night, Foley followed comedy stalwarts Mick Thomas, a former pro kickboxer, and "30 Rock" star Judah Friedlander.
"I'm not even the toughest guy named Mick on stage tonight," the Long Island native lamented at the start of his gig.
But if comedy success is a long shot for Foley, 46, it fits his life story perfectly. The man who couldn't do more than four pull-ups in high school gym class became a three-time WWE champion, masking his athletic deficiencies with masochistic feats like falling 20 feet off the "Hell in a Cell."
When he wanted to write his autobiography, computer illiteracy didn't matter. He merely hand-wrote the New York Times No. 1 best seller "Have a Nice Day" on notebook paper, as he did with several subsequent titles.
He started the comedy journey 2 1/2 years ago, but took a long layoff while working for TNA Wrestling. Now a free agent, he's focused on finding the same confidence in comedy that made him a squared-circle icon.
"In wrestling, I broke through when I stopped worrying about looking like an idiot when I'm in the ring or on the mic, and I'm not quite there yet" with the comedy, Foley said.
Friedlander, Foley's comedy Yoda, had put him through a crucible the night before, with four performances at three NYC clubs. The Brokerage crowd was loaded with wrestling fans, and Friedlander wants to make sure Foley can connect with those who, in the words of Gorilla Monsoon, "wouldn't know a wrist lock from a wristwatch."
But kickboxing veteran Thomas said in the month he's known Foley that the progression has been unreal.
"He's picking up comedy a lot faster," Thomas said, "than I'd ever pick up wrestling."