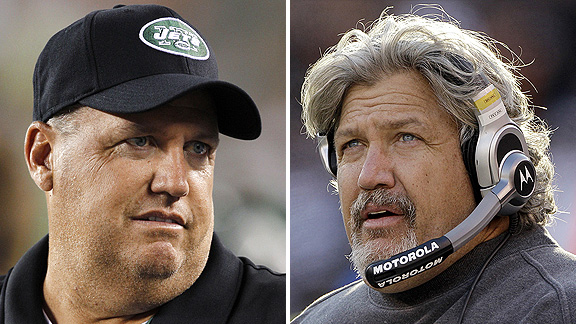 AP PhotoWho is more eccentric? Jets Rex Ryan (left) or his twin brother Rob Ryan of the Cowboys?
Dallas Cowboys defensive coordinator Rob Ryan says that he has even more eccentric interests than his twin brother, Jets head coach Rex Ryan.


"Look, believe me everybody's got whatever screwed up thing going on. I don't care," Rob Ryan said. "I'm sure you do and everybody else that points fingers. Who cares? Everybody's got a life off the field and who really gives a crap. I'm sure I'm worse than he is. Big deal."
You have to wonder what Rob Ryan might be into that would make him even more unconventional than his famously unique brother.
Rex Ryan: has a foot fetish
Rob Ryan: went on his honeymoon for two weeks to Lady Foot Locker
---
Rex Ryan: underwent lap-band surgery
Rob Ryan: has a lap-band surgery fetish
---
Rex Ryan: likes to sign lots of top cornerbacks
Rob Ryan: his messy home will be featured in the upcoming TV series: "Hoarding: Cornerbacks"
---
Rex Ryan: uses frequent profanities when communicating
Rob Ryan: communicates exclusively via four-letter words, offensive gestures and physical violence
---
Rex Ryan: dressed up as his brother for a press conference
Rob Ryan: dresses up every day as Thor, but Thor at age 50 and quite overweight
---
Rex Ryan: filmed videos of his wife's feet that were put on YouTube
Rob Ryan: has an active MySpace page
---
Rex Ryan: predicts that the Jets will win the Super Bowl once or twice a week
Rob Ryan: probably thinks that the Cowboys could maybe possibly win a playoff game sometime in the next decade or so