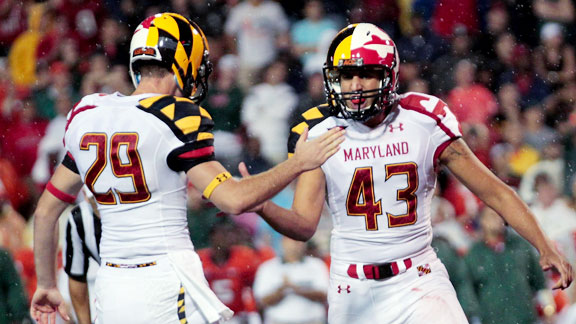 Rob Carr/Getty ImagesThe discussion about Maryland's uniforms spurred the Terrapins upward in social media indexes.
Few sports focus as heavily on rankings as college football. When it comes to the social mediasphere, there's no question that the University of Maryland has risen to the top spot this week.
The Terrapins beat Miami 32-24 in the teams' nationally televised season opener Monday. Such a result is enough to make Maryland fans happy, although not traditionally enough to cause a social media surge and ignite the blogosphere. However, throw in a unique, interesting, "insert-your-140-character opinion here" uniform and you've got yourself a near-instant trending topic.
"We knew the uniforms would make a bold statement when the team unveiled them on Monday night," said Dan Mecchi, Under Armour director of digital media. "As a brand we are always active on Facebook and Twitter."
The Maryland-Miami game certainly provided one of those hits. Within moments of taking the field in state-flag inspired Under Armour uniforms, Maryland football became the subject of fan chatter world-wide-web-wide. "University of Maryland" shot to the top of Google Trends and was Google's second-most searched term on game day. "Maryland Football" was among Yahoo's most searched sports terms and jumped to No. 2 in the sports category on the site's Buzz Log Movers' rankings, which gauge surges in a term's popularity.
"We thought we'd get a lot of play between Twitter and other social media, but it's really gone from being a sports story to a news story," said Shawn Nestor, the Maryland associate media relations director for football. "We didn't necessarily expect that."
What does this kind of social media attention translate to? Both the University of Maryland and Under Armour see tremendous worth in a social media surge.
"There's a ton of value, especially when you talk about building the brand," Nestor said. "And it's the whole University of Maryland brand, not just football. It gives us a stronger line with the fan base."
Coach Randy Edsall saw his Twitter following jump from 2,500 on Sunday night to more than 4,450 by midweek, a nearly 80 percent jump. With more engaged fans comes the opportunity to engage more with fans.