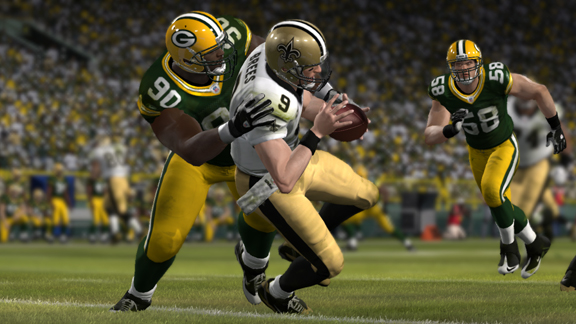 EA SportsThe 'Madden' Week 1 simulations predict a big comeback by the Packers on Thursday night.
Who will win the Week 1 slugfest between the Ravens and Steelers? Can the Saints knock off the defending champs? Will Rex Grossman play like "good" Rex or "bad" Rex in Washington?
We try to answer all of these questions and more with the help of EA Sports and "Madden NFL 12." Every game this week has been simulated using the advanced artificial intelligence of the "Madden" engine, complete with winners, statistical leaders, and even the player of the game.
Check out who "Madden" thinks is going to win before the games are even played, beginning with Thursday night's opener between the Saints and the Packers:
---
Player of the Game: Aaron Rodgers
Down 21-10 heading into the fourth quarter, Aaron Rodgers took his team to the next level, leading the defending champs on three scoring drives, including a 13-yard touchdown to Greg Jennings with less than two minutes on the clock to give the Packers a breathtaking 26-21 victory over the Saints. Rodgers finished the game throwing for 342 yards and two touchdowns.

For a box score, and to tab through the rest of the games, visit The Gamer blog's Madden NFL 12: Week 1 Simulations »