Welcome back to another edition of Page 2 Jeopardy!, the quiz that tests your knowledge of sports, pop culture and assorted trivia. Please remember to phrase your responses in the form of a question.
(Correct questions at the end of the quiz.)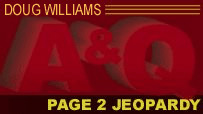 1. Answer: "I never thought I was too small for the NFL," says this NFL receiver who led his team in catches in 2010 after going undrafted out of college and being on the practice squads of two NFL teams.
2. Answer: Because he didn't like the body language and composure of players on the sideline during his team's opening loss, this Big Ten coach had his team do "a little extra running" this week.
3. Answer: This actor, who has appeared on the cover of Sports Illustrated, once dissed David Beckham's MLS venture, saying: "Man, we don't want your soccer. There's no way Americans are going to buy the idea of 90 minutes of running around without much happening."
4. Answer: Years before she teamed up romantically with one of the NBA's best point guards, she was a standout point guard on her high school team and a model and actress.
5. Answer: Jerome Williams, who hadn't pitched in a big league game since 2007, is back in the majors and is 3-0 after being rediscovered by the Angels on this independent Class A team.
Question 1: Who is Danny Amendola?
Question 2: Who is Minnesota's Jerry Kill?
Question 3: Who is Mark Wahlberg?
Question 4: Who is Gabrielle Union?
Question 5: Who are the Lancaster (Pa.) Barnstormers?