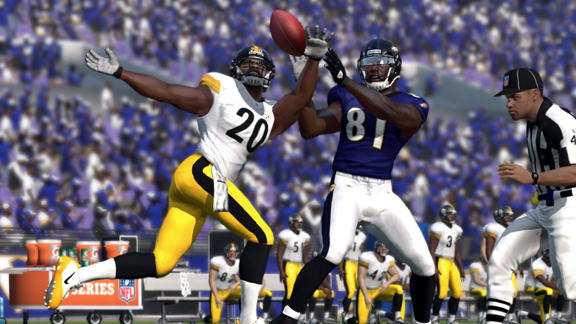 EA SportsPittsburgh and Baltimore are predicted to play a tight defensive struggle with some late heroics.
We try to answer all of these questions and more Every NFL game this week has been simulated with the help of EA Sports and "Madden NFL 12" using the game's advanced artificial intelligence, complete with winners, statistical leaders, and even the player of the game.
Check out who "Madden" thinks is going to win before the games are even played, including perhaps the week's best game, the Pittsburgh Steelers visiting the Baltimore Ravens:
---
Down 7-3 with time ticking away in the fourth quarter, Ben Roethlisberger hits Mike Wallace with a 48-yard bomb for the Steelers first touchdown of the new season. It's also the score Pittsburgh needed to pickup their first win as they beat the Ravens in an old fashioned slobberknocker, 10-7.
For a box score, and to tab through the rest of the games,
visit The Gamer blog's Madden NFL 12: Week 1 Simulations »
Or check out individual games:
Atlanta at Chicago | Cincinnati at Cleveland | Buffalo at Kansas City
Philadelphia at St. Louis | Detroit at Tampa Bay | Tennessee at Jacksonville
Indianapolis at Houston | New York Giants at Washington | Seattle at San Francisco
Minnesota at San Diego | Carolina at Arizona | Dallas at New York Jets
New England at Miami | Oakland at Denver