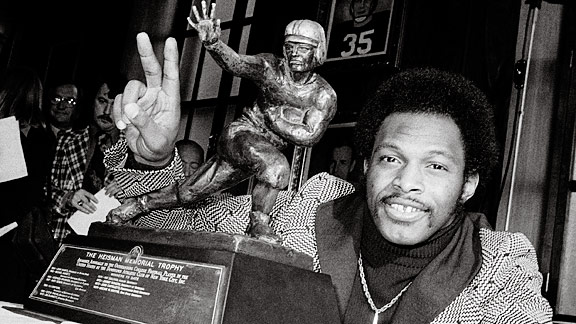 AP PhotoArchie Griffin smiles after besting Chuck Muncie, Ricky Bell and Tony Dorsett for the Heisman in 1975.
The name Archie Griffin is synonymous with Ohio State football.
He's the only two-time winner of the Heisman Trophy. He's the Buckeyes' career rushing leader with 5,589 yards. He was the first player to start in four consecutive Rose Bowls. During his collegiate career, Ohio State went 40-5-1 and finished in the top 10 in the AP poll each year.
He's also a tremendous ambassador for Ohio State, currently serving as president of the school's alumni association. Legendary Buckeyes coach Woody Hayes once famously said of Griffin, "He's a better young man than he is a football player, and he's the best football player I've ever seen."
Page 2 recently interviewed Griffin and asked him about conference realignment, the resignation of Jim Tressel and whether Urban Meyer will be the next coach of the Buckeyes. Here's what transpired:
Page 2: Where do you keep your Heisman Trophies?
Griffin: Right now, I've got one at the school at the Ohio Union. The ballroom has been named in my honor, and they've got a display case right outside of the ballroom, and I display one of the Heisman Trophies there. The other Heisman Trophy is in a restaurant called the Buckeye Hall of Fame Grill. It's a restaurant that really does a wonderful job of displaying the history of sports at Ohio State University, so I keep the other one there. I always figure that more people will see those trophies in those establishments than would see them in my home, and I really like for people to see them. I'm very, very proud of them because it speaks for the teams that I played on during my time at Ohio State. I always felt that I was at the right place at the right time with the right people, meaning the coaches and players I played for and played with. So I feel very fortunate from that standpoint.