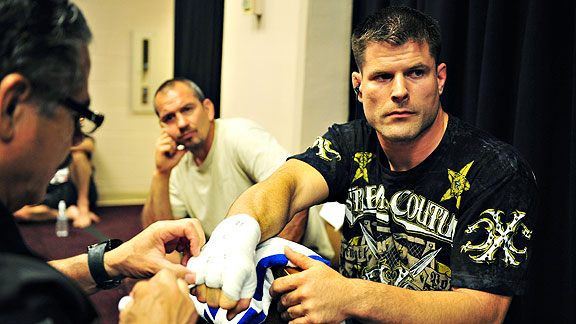 Kari Hubert/Getty Images To honor those fallen, UFC fighter Brian Stann will spend Sunday with his wife and children.
Brian Stann knows a thing or two about loss.
After all, the UFC fighter nicknamed "All American" served with the Marines in Iraq and won a Silver Star for his valor during Operation Matador in 2005. Before his third amateur fight, his cornerman received a phone call that one of their friends had been killed overseas. A little while later, the same cornerman was killed in Iraq.
Tragedy has since morphed into perspective, loss into opportunity. Though Stann sometimes thinks about his war experiences before a fight -- "A lot of different things. I don't want to get into it too much. Some of them are really sad stories." -- the takeaway from heartbreak is obvious.
"The biggest thing is that I don't let certain parts of being a professional fighter affect me as other guys do," said Stann, who will fight Chael Sonnen in UFC 136 on Oct. 8. "Obviously I've experienced real loss many times over. So if I lose in the Octagon, it's simply an experience I'm going to grow from and get better. I'm not going to walk out of the arena feeling like a loser. I simply lost an athletic competition."
Stann was a junior at the Naval Academy on Sept. 11, 2001, walking into the barbershop when the hijacked planes struck the Twin Towers. He and his peers were called back to the company area, where they watched the video on television, wondering what the heck was going on.
He went from a Midshipman middle linebacker with dreams of traveling the world to a tunnel-visioned cadet focused on deployment. He fought for his country. Eventually, he'll fight for a title belt.
"It completely changed my life," said Stann, who founded Hire Heroes USA to help veterans find employment. "If I were to go back in time to Sept. 10 and tell myself what's going to happen and how much my life's going to change, I never would have believed myself. If our country hadn't been at war, I don't know if I had gotten into martial arts."
On Sunday, Stann will spend the 10-year anniversary the best way possible: with his wife and two daughters.
"That's my best way to think about the men that I've lost and the friends that I've lost," he said. "'Hey, I have bad memories. I'm going to drink or do this.' That's not who I am. I'm going to try and do something happy and exciting and not think about loss. When you have a wife and children, you're as wealthy as any man in the planet."