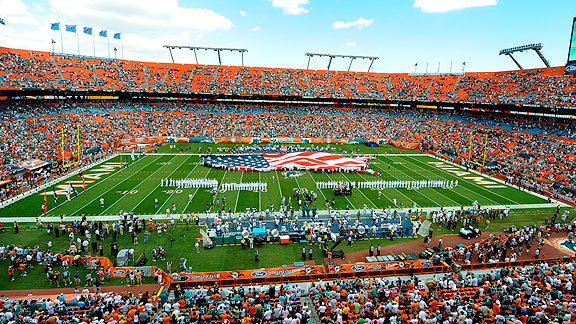 AP Photo/Rhona WiseHow loud will the real crowd be at the Dolphins game at home?
A complete football coach must be prepared for everything. Just ask Miami Dolphins Coach Tony Sparano. He's got to be ready for a season-opening game on prime-time television Monday night against the vaunted New England Patriots.
And if that challenge isn't enough, he's got to get his Dolphins ready to handle the raucous crowd in enemy territory -- Sun Life Stadium. That's the Dolphins' Sun Life Stadium.
Yes, Sparano must be the first coach in the history of football to pipe in negative crowd noise during practice while preparing for a home game. Would it be worse in New England? Apparently not.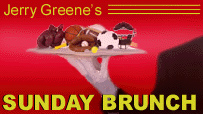 "No, never before,'' Sparano admitted about this tactic as quoted by Dave Hyde, columnist for the South Florida Sun-Sentinel. "One of the reasons we do it here is we are in South Florida and the New England teams and New York teams, there's a lot of fans out here. They have a good fan base themselves. Somehow they make their way into our stadium."
Can you say pathetic? Of course he has a point, considering the Dolphins starting quarterback Chad Henne was booed in a Dolphins' practice.
Sparano likes to quote Russell Crowe dialogue from "Gladiator" about "If you win the crowd, victory belongs to you."
If he turns to the crowd Monday night, he may get nothing but thumbs down. Has a team ever been executed -- at home?
And don't forget that these are the same Dolphins who plan on saluting Denver backup quarterback Tim Tebow when the Broncos come to town. Apparently that makes sense in Miami.
Say, isn't Los Angeles looking for a team?