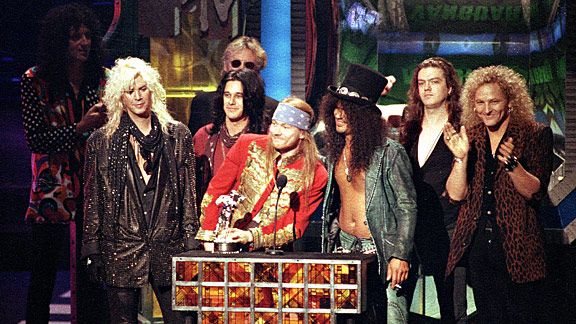 AP Photo/Kevork DjansezianCam Newton isn't the only one with an excellent debut. Don't forget about Guns N' Roses.
Well, that was impressive.
Sure, his Carolina Panthers lost to Arizona 28-21 on Sunday. And who knows where his career goes from here? But Cam Newton's first NFL game -- a rookie-debut record 422 passing yards, three total touchdowns, a 64.9 percent completion rate -- easily places him among the most impressive debuts. Not just in the NFL, alongside Randy Moss' and LaDainian Tomlinson's. We're talking ever.
And not just football. Alongside all of these:
15. J.P. ARENCIBIA
The still-young Blue Jays catcher homered on the first pitch he saw on Aug. 7, 2010, then proceeded to double, single and homer on his next three swings.
14. "48 HRS."
In 1982, there was a new sheriff in comedy town ... and his name was Eddie Murphy, who made his feature acting debut in this raw buddy-cop movie. Yeah, several actors/actresses have won Academy Awards for their first film roles, but none of those movies launched a comedy career like Murphy's. After all, he's hosting next year's Oscars.
13. ZINEDINE ZIDANE
The soccer star's international debut with France (in 1994) hardly could have been better: Subbed in with his country trailing 2-0 to the Czech Republic, Zidane scored two impressive goals to help earn France a draw.
12. RICKY BOBBY
When driver Terry Cheveaux (played by director Adam McKay, Will Ferrell's writing partner) chose a sandwich over returning to the car during a pit stop, crew member Ricky Bobby (Ferrell) got behind the wheel and drove from last place to third. If only he did as well in the post-race interview. (Side note: "SNL" vet McKay made his feature writing debut with "Anchorman." Not bad, either.)