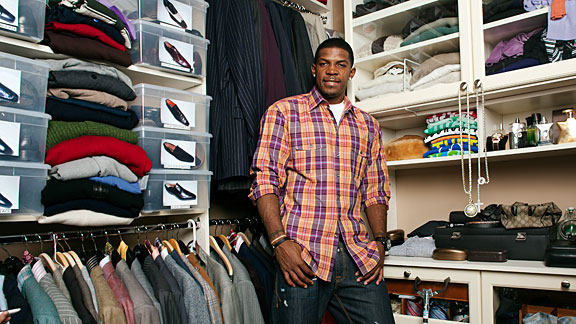 Yvonne Boyd for ESPN The MagazineJohnson is 6'7", but the ceilings in his closet soar to 20 feet. That's enough room for a lot of blazers.
This story appears in the Sept. 19, 2011 issue of ESPN The Magazine.
JEWELRY
"I bought this chain 10 years ago when I was 20. It's probably worth at least $150,000 now. It reminds me of the decisions I made when I was younger. I still like the chain and still wear it sometimes, but it's not a purchase I would make today."
WATCH
"Every guy needs a nice watch. It's an essential. This one is from Jason of Beverly Hills. It's just a regular old watch, but it looks sharp. I love watches. I have more than 20 -- some blingy, some plain and some cheap. I like to change it up."
BLAZERS
"When I was 20, I lived in sweatpants and T-shirts. I never wore nice suits or fancy clothes. If David Stern had enforced a dress code my first few years, I would've been in trouble. I still like my style to be low-key and laid-back. One thing I like to do is wear vests with my jackets."