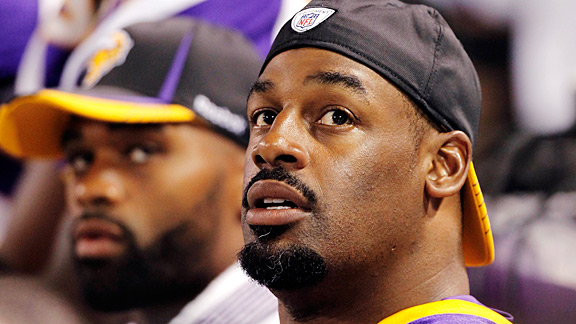 AP Photo/Andy KingFans once again are showing no love for quarterback Donovan McNabb.
OK, we're not talking about Tom Brady. But after Week 1 of the NFL season, fans of perhaps as many as half of the league's 32 teams have reason to fear they already need a new quarterback. And there's such a long way to go.
Consider these alarming statistics:
• Exactly half, 16 starting quarterbacks, had passer ratings beneath 90 after the opening weekend.
• Ten threw for less than 200 yards. (Donovan McNabb threw for 39 yards, which is about the same distance as a long putt.)
• Four had more interceptions than touchdowns. (Ben Roethlisberger, Matt Schaub, Eli Manning and Matt Ryan.)
• Three completed less than 50 percent of their passes. (Mike Vick, Colt McCoy and McNabb.)
• Two achieved first downs on just 20 percent of their pass attempts. (Alex Smith and, yes, McNabb.)
• And one (probably McNabb) accidentally killed a partridge in a pear tree.
Granted, I made up that last one but you get the idea. If these are the 32 best professional quarterbacks in the world, we have a problem. Of course, the problem is far worse in some NFL cities than others. And that brings us to this week's reader-generated list:
Top 10 Clues You Need a New Quarterback
10. "JaMarcus Russell is laughing at you," said Ben G. of Nashville, Tenn.