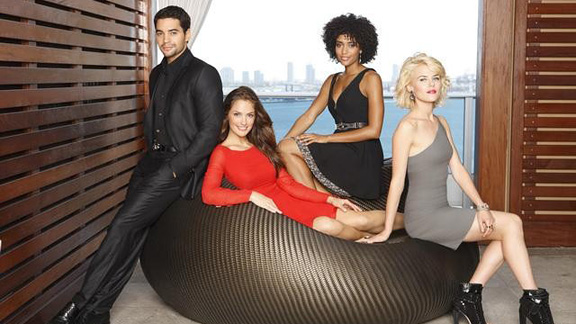 Bob D'Amico/ABC Ramon Rodriguez is Bosley, while Minka Kelly is Eve, Annie Ilonzeh is Kate and Rachael Taylor is Abby.
They didn't know. "They" being the production crew and cast of ABC's "Charlie's Angels." Then they found out that "Bosley" had game. Real game.
Ramon Rodriguez, who is the new Bosley, is a New York City ball player who has gone from doing freestyle Nike commercials to playing Omar's boyfriend on "The Wire" to being Shia LaBeouf's best friend in "Transformers: Revenge of the Fallen."
With the premiere of "Angels" at 8 p.m. ET Thursday, Page 2 caught up with Rodriguez to talk about what happened once his skills were exposed.
So they found out?
"The writers heard I played ball, but they'd never seen me play ball..."
And once they heard, they found a way to write basketball into a script for you?
"Yeah. This episode that we are shooting right now, Bosley goes undercover as an assistant basketball coach. In the show, he's playing for this alumni team, which is playing against the school's current team at Midnight Madness. The person they cast to play on the current team in the episode is Lil' Romeo. And you know, Romeo plays for USC, but we didn't get into too much ball because something dramatic really happens to Romeo's Pops in the episode. The episode takes a really quick turn from basketball."
I heard Annie (Ilonzeh, who plays Kate) has game too?
"Annie can play! She told me that she played in college [four-year scholarship at the University of Texas]. She was just mimicking her shot when we first got on the set, and I said, 'Yeah. I know you played ball somewhere.'"
Is Hollywood taking you away from basketball?
"With my work schedule, I don't have a lot of time to go play pickup as much as I used to. That's No. 1. No. 2, I really can't afford to get injured. But whenever I'm in between jobs and I go back to New York, I have my regular gym I go back to, my regular league that I play in, and I usually try to find a park to go play at even if it's just to go shoot around. I always keep a rock [basketball] with me. There's one in my trailer; there's one in my apartment. I'm always playing with the ball. Always doing tricks. That never goes away."
Has filming the show in Miami pulled you over to the Heat?
"No! I'll never leave the Knicks. I'm a Knicks fan until I die. I'm not gonna lie though, when we were shooting the pilot I did catch a Heat game. It's fun watching here. The arena is live!"