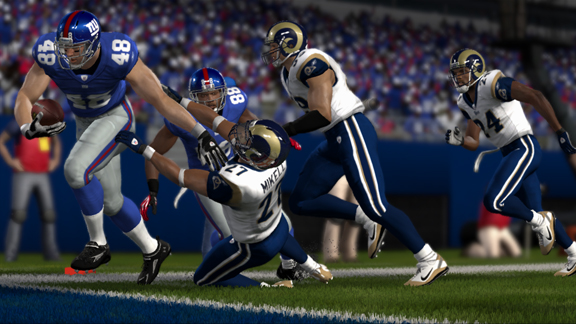 EA Sports
We try to answer all of these questions and more Every NFL game this week has been simulated with the help of EA Sports and "Madden NFL 12" using the game's advanced artificial intelligence, complete with winners, statistical leaders, and even the player of the game.
Check out who "Madden" thinks is going to win before the games are even played, including Monday night's game, the St. Louis Rams visiting the New York Giants:
---
The Rams led 20-6 heading into the fourth quarter, but after two Mario Manningham touchdowns forced overtime, the Giants won the game on a 34-yard field goal by Lawrence Tynes. Eli Manning added 291 yards and two touchdown passes to help New York pickup their first win of the season.
Click here for a box score and game leaders.
To see how the rest of this week's games fared in the simulation, visit The Gamer blog's Madden NFL 12: Week 2 Simulations »