Myck Kabongo isn't as eccentric as Ron Artest, er, Metta World Peace, as accomplished as Kobe Bryant and doesn't have Shaquille O'Neal's larger-than-life persona, but all four have a commonality that transcends ankle-breaking crossovers and rim-rocking dunks.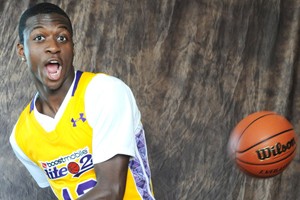 Kelly Kline/ESPNHSTexas point guard Myck Kabongo says he's "definitely" the top rapper in college basketball.
"Rapping," Kabongo said matter-of-factly. "It's just in me. It's something that I used to play around with and grew to really love. So I decided to do it for real."
That's right, Kabongo, Texas' highly-touted freshman point guard, is joining the ranks of hoopers who double as hip hop emcees. His debut, 15-track album titled "Late Nights and Early Mornings," is set to drop next spring after basketball season.
"It won't be for sale or anything," said Kabongo, whose stage name is Yung Swag. "Just for free. I haven't worked out where people will be able to get it and all that, but I'll make sure it's available to everyone. It should be pretty tight."
It certainly won't lack star power, not with Oklahoma City Thunder star Kevin Durant, the reigning NBA scoring champ, spitting hot bars on the album.
"K.D. can really flow& Like really," Kabongo said. "I definitely had to get him on the album. He goes hard on the tracks. People just don't know. K.D.'s style is real unique."
As for his own flow, Kabongo, who claimed to be "by far, easily the best rapper in college basketball," said he's a cross between rappers J. Cole and Drake.
"I'm a very positive person and that comes out in my music," Kabongo said. "I'm from a tough neighborhood back in Canada so I rap about things I've seen and been through and how I overcame things. Now I'm rapping about the college experience. I'd say I'm a motivational rapper. I've been in both extremes so that's what I rap about. That's my lane."