Chivas USA soccer player Heath Pearce knows he's getting on everyone's nerves.
But how often does your sister appear on the runaway hit TV show "Glee"?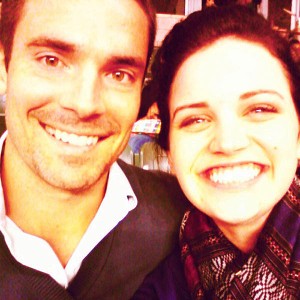 Courtesy of Heath PearceSoccer player Heath Pearce will gather his teammates Tuesday night to watch his sister Lindsay Pearce on Fox's "Glee."
"I know I'm going to gather around the TV set tonight with some teammates because they are tired of hearing me tell them when it's on," said Pearce, who along with his Major League Soccer team is in Washington, D.C., to play D.C. United Wednesday. "I'm so proud of her."
Pearce's sister, Lindsay Pearce, starred in the reality audition show "The Glee Project" and won a role on the hit show on Fox, which returns at 8 p.m. Tuesday. She was runner-up, meaning she has a two-episode arc.
"We have a whole family of athletes but Lindsay decided to go into the arts, and she became very good at it," said Pearce, who has played pro soccer for six years. "She was always into musical theatre and everywhere she went, she would sing. And now it's coming to fruition."
For Heath Pearce, the idea of performing in front of a camera on stage or movie isn't his thing.
"I can play soccer in front of 90,000 fans but having to do a monologue on stage? My hands would be sweaty. My voice would change," said Pearce, who is 27 and from Modesto, Calif. "Soccer is second nature to me. Now acting? That would make me most vulnerable. That's a whole new world."
And has Heath Pearce watched the show before?
"I've seen it a few times," he said, "and I'm always a fan of the songs. I love their musical versions."