R.I.P., R.E.M.
The band broke up today, after more than three decades of prominence in the alt-rock scene.
Of course, Michael Stipe & Co. aren't without their sports connection. They met and formed the band as students at the University of Georgia. Stipe reportedly still spends time in Athens. The marching band has paid homage to these chart-toppers. And although they aren't the most vocal of Bulldogs supporters, they just this summer lent the song "Oh My Heart" to the school for a P.S.A. to be shown on game days.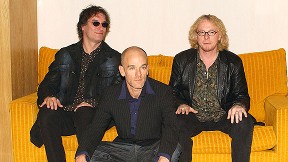 Carlos Alvarez/Getty ImagesThe members of R.E.M. came from humble roots in Athens, Ga., to become international superstars.
Plus, there are some interesting links between R.E.M. and UGA, from the rockers' early years all the way to their final days. Coincidence? Perhaps not ...
1980: R.E.M. forms, introduces itself to the alt-rock world; Herschel Walker joins the Georgia football program, introduces himself to the college football world.
1981: R.E.M. records its first single, "Radio Free Europe"; Georgia wins its first Sugar Bowl since 1947.
1988: R.E.M. releases the single "Orange Crush"; Georgia beats Tennessee on opening day.
1991: After two non-winning years, Georgia returns to the better side of .500 with a 9-3 record -- making Bulldogs fans into "Shiny Happy People" (also released that year).
1993: The Bulldogs again sink below .500; R.E.M. releases "Everybody Hurts."
2008: Georgia wins the Sugar Bowl on Jan. 1, 2008, and finishes the season ranked No. 2; R.E.M. releases "Accelerate," which debuts at No. 2 on the U.S. charts. The Bulldogs then open the 2008 season as No. 1 -- mirroring the album's spot on the U.K. chart (and several others in Europe).
2010: R.E.M. records "Collapse Into Now"; Georgia begins its own collapse, going 6-7 -- its first losing season in 14 years.
2011: R.E.M. breaks up; Georgia starts 0-2, and the Mark Richt era might just reach the end. The end of the world as we know it, if you will.