Ask Jesse Williams one question about baseball -- anything, really -- and he gets going.
The actor stars in "Grey's Anatomy" as Dr. Jackson Avery (you know you watch it!), but before he was modeling and acting, his life happened on a baseball diamond. The son of a coach, he calls it his religion. It was that serious. Of course in true coach's kid fashion, he burned out and went in a completely different direction -- trading in line drives for well, just lines.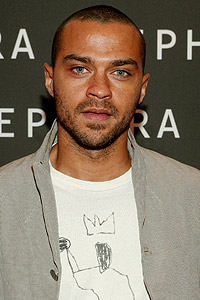 John Lamparski/Getty Images"Grey's Anatomy" returns Thursday with Jesse Williams back.
It's better this way, he insists. His celebrity affords him kid-in-a-candy-store opportunities (like playing in this year's All-Star Legends & Celebrity Softball Game alongside some of his baseball heroes) and he gets to get relive a dream that would have never come true anyway. ("I wasn't that good," he confesses of his younger years).
The new season premieres Thursday night at 9 p.m. ET on ABC. Here's what else Williams had to say.
So you grew up with a baseball glove in your hands?
"In Chicago I played kind of seasonal teams, my dad was a coach and then we moved to Massachusetts and I played on tournament teams and traveling teams there, so I was a shortstop -- I was a good shortstop -- on the A-team for the traveling regional team, as a shortstop for Massachusetts. I always wanted to be a football player; I always loved American football, but I was always little. My dad is from Georgia and played on the national championship team in high school. They were national champions for like decades.
Does that mean that you were also good in football, too?
"He was a die-hard. He came up loving football as a religion and he spent two birthdays in the hospital with broken legs and kind of had all these war stories about it. He really would not let me play football, but I was kind of heartbroken about that. But I grew up playing baseball."
Now you play on the "Grey's Anatomy" softball team. How are you guys doing?
"I'm very competitive, have to win, I have to give it my all, I talk a lot of crap, I'm very vocal -- and I under ran a couple pop flies. I kind of missed a couple balls playing outfield, and I was getting really pissed and confused, like, 'this is not me!' I'm like, 'How am I missing these balls?' And I realized that I have a stack of contacts in my bathroom mirror that I never, ever use. I never wear them. I can't see the damn ball flying at me at 40 mph in the outfield until it's too late. So I looked like a fool for about three games. Then I got my contacts in and I was back to business. But that was a humbling experience to say the least."