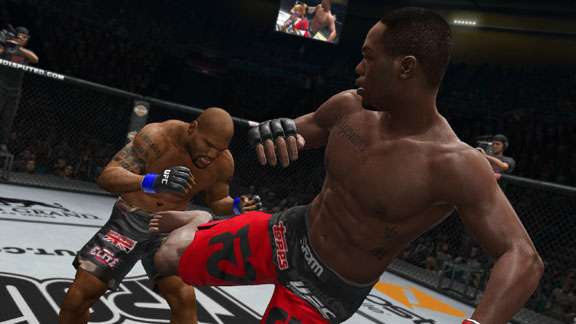 THQJon Jones wants to see a ratings increase in "UFC Undisputed 3" ... or else!
Imagine a UFC video game where before trading blows in the octagon you could fight crime, chasing down muggers in the park, using your MMA skills to subdue the bad guy.
Funny as it sounds, that was real life for UFC light heavyweight champion Jon Jones earlier this year as hours before fighting "Shogun" Rua for the belt, Jones and his trainers headed to a New Jersey park to meditate, heard someone smashing in an older woman's car window and ran to her aid before Jones took down the robber with a foot sweep.
That's probably the closest we'll ever get to Saints Row: UFC Edition, but it sure sounds like a winner to me.
And while it's been a few months since Jones went all Superman in Jersey, the 24-year old fighter has been busy, not only preparing for his showdown against Rampage Jackson this Saturday on pay-per-view, but trying to earn his way to the "UFC Undisputed 3" video game cover. THQ and the UFC are letting fans vote online for this year's cover athlete, and while Jones trails Anderson Silva early, he's hoping that after Saturday night's performance, he'll be able to sway some fans clicking his way before the voting period ends September 30.
"I'd love to be on the cover," Jones tells me as I catch him between press conferences to promote his fight. "I actually play video games so it would be a big honor. I love to play the UFC game, and I think I'd represent it well."