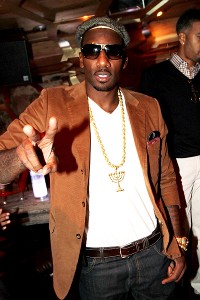 Marc Andrew Deley/Getty ImagesAmare Stoudemire prefers Southern cooking and has someone to do that.
"Man, I love cholent," chef Maxcel Hardy says, praising the old-world charms of the traditional Jewish meat-and-bean stew. That's not exactly what you'd expect to hear from the private chef to an NBA star. But then Hardy -- or Chef Max, as he's known -- and his friend and patron, Amar'e Stoudemire, aren't exactly your typical cook-client duo.
Stoudemire is the New York Knicks' power forward and $100 million man-about-town. Unlike a lot of big-time athletes who play for big-city franchises but retreat each night to the palatial isolation of gated suburbs, 28-year-old Stoudemire is living the dream in grand New York style.
Off-court, he pals around with Vogue editor in chief Anna Wintour at fashion shows, and he launched a line of athletic-inspired women's wear with designer Rachel Roy earlier this fall. And then there's his West Village penthouse, which has a river-view wraparound terrace, a barber's chair for at-home haircuts, and even a recording studio.
To read the rest, check it here at bonappetit.com.