Welcome back to another edition of Page 2 Jeopardy!, the quiz that tests your knowledge of sports, pop culture and assorted trivia. Please remember to phrase your responses in the form of a question.
(Correct questions at the end of the quiz.)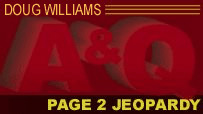 1. Answer: This super soph wears lucky No. 13, put on 16 pounds of muscle after his freshman season is now is the No. 2 rusher in college football, averaging more than 165 yards per game.
2. Answer: After being a two-sport player at North Carolina, he had to work security and sell cell phones to make ends meet before finally catching on as a receiver in the NFL.
3. Answer: This former NHL player, who served prison time, used the first-aid training he got behind bars to save the life of a teammate in Sweden this week.
4. Answer: Under new rules in this country to thwart soccer-fan violence, only women and children under 12 will be allowed into games of teams sanctioned for unruly behavior.
5. Answer: After scoring TDs in his first two games, this NFL tight end has celebrated by pantomiming a sword-wielding pirate and pretending to make smoke signals.
Question 1: Who is Ronnie Hillman?
Question 2: Who is Jesse Holley?
Question 3: Who is Mike Danton?
Question 4: What is Turkey?
Question 5: Who is Tony Scheffler?