Pro Football Hall of Fame quarterback Joe Namath set the standard for athletic confidence by guaranteeing victory in Super Bowl III and rose to an iconic sports and pop-culture figure by combining his success for the New York Jets with his off-field playboy lifestyle.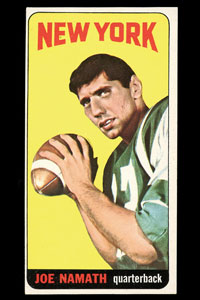 Courtesy of ToppsJoe Namath's 1965 Topps rookie card is valued around $3,000.
So it's understandable that Topps has enlisted the charismatic football great as a primary spokesman for its 2011 football cards that feature special "Super Bowl Legends" and codes for collectors to try to unlock prizes at www.toppslegends.com.
"I'm holding one now that has our Super Bowl championship logo on it. It's a coin," Namath said in a phone interview before the NFL season began. "It's really a great selection of cards here."
Today he resides in southeast Florida, serves as a goodwill ambassador for the Jets, contributes commentary on www.BroadwayJoe.tv and has a weekly radio spot on ESPN New York 1050.
"Oh, I'm always an ambassador for the Jets," Namath said. "I do my BroadwayJoe.tv, buddy, I keep up with the Jets and the Internet as well with Twitter and Facebook and the radio show also. I am a football fan, yeah. Specifically a Jet and Alabama Crimson Tide fan."
The Life spoke with Namath late last month to discuss football, trading cards and memorabilia collecting.
The Life: How'd you get involved with Topps this year?
Namath: Are you kidding? I've been involved with Topps since I was a professional. Actually I'm holding right now one of my rookie cards [1965].