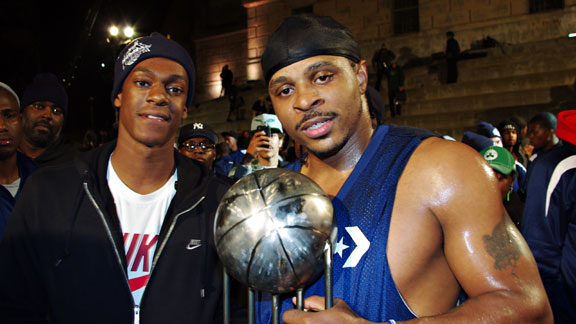 Gideon RubinHugh "Baby Shaq" Jones (right) shows off his trophy with Alcatraz event organizer Rajon Rondo.
SAN FRANCISCO -- A massive upper body, a loose whistle and some dazzling spin moves won Hugh Jones $10,000 and a 60-pound trophy built into a jagged cement base.
Jones is a 31-year-old streetball sensation from Washington, D.C., who goes by the nickname "Baby Shaq," though he more closely resembles Ray Lewis from the skullcap down to the scowl -- not the mention his playing style.
But it was that style that helped Jones to be crowned the 2011 Red Bull "King of the Rock" at Alcatraz on Saturday after winning the frantic six-round, steel-caged-style one-on-one tournament on the "The Yard" of the world's most infamous prison.
In his first act as King, Jones kicked the ball over the barbed wire fence into the San Francisco Bay as the buzzer sounded on his 18-9 defeat of Lance Perique in a physical final during which no fouls were called.
The 64-man tournament, which is in its second year, expanded from six West Coast qualifiers last year to 33 internationally, with 21 from the United States. Players came from as far away as Hong Kong and Israel to scrape their hands and knees on the concrete grounds of this former island prison in front of a crowd of about 600.
Boston Celtics guard Rajon Rondo hosts the tournament.
"It's incredible, best atmosphere I've ever played in," said Jones, who averaged 20 points and 10 rebounds in three years at Division III Southern Maryland and has also played streetball on the AND1 tour, among others.
Jones' body type and playing style were especially well suited for the street game that semifinal opponent Brian Centella described as "two guys going to war on a little court in front of all these people at a prison."
Centella, who played D-III ball at Loras (Dubuque, Iowa), should know. He was on the receiving end of the night's fiercest blow, when Jones lowered a shoulder into his jaw and dropped him on his back during a play on which no foul was called.
"Obviously the game is called a lot tighter in college basketball than in the pros, but that's what this is about," Rondo said. "That's how people get to this point, that's how people get to the pros and college, by playing one-on-one games like this and learning how to compete and getting some toughness about themselves."