Before the 13th season of ABC's "Dancing with the Stars", soccer star Hope Solo said, "I have absolutely no dancing ability."
And she might be right.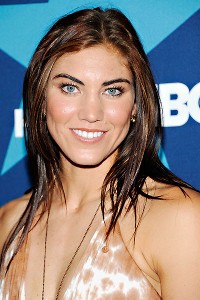 AP Photo/Evan AgostiniHope Solo still looks rigid on ABC's "Dancing with the Stars."
On Monday, she and partner Maksim Chmerkovskiy were never in sync in their dance, and the judges noticed.
"You got lost so many times," judge Bruno Tonioli told Solo.
They finished fourth from the bottom out of 11 teams, scoring 19 points out of a possible 30. Because of Solo's popularity, the team will likely be safe. Last week, Los Angeles Lakers forward Metta World Peace (formerly Ron Artest) was the first athlete sent home.
It's hard to see who will be sent home on Tuesday as Ricki Lake's 23 points led the way and the three bottom dancers all have strong fan bases.
Actor David Arquette did the jive with pro Kym Johnson with his daughter, Coco, and her mom, Courteney Cox, in the audience. They finished with 18 points. That tied with reality star Carson Kressley, who with Anna Trebunskaya, looked awkward on the floor. The worst dancer of the night was transgender Chaz Bono, who was struggling with swollen knees. He and partner Lacey Schwimmer moved quite gingerly.
The quote of the night went to Len Goodman, who said of their slow dancing: "I move faster through the car wash."
And there was a wardrobe malfunction when TV broadcaster Nancy Grace popped out of her top. That wasn't shown on television.
Host Tom Bergeron joked, "On the European version that would be perfectly fine."