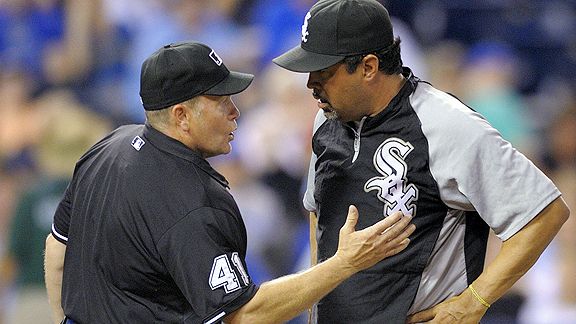 AP Photo/Reed HoffmannOzzie Guillen didn't avoid controversy during eight years as White Sox manager, but he was never dull.
The Ozzie Guillen era is over for the Chicago White Sox.
The man who managed the team to the 2005 World Series title has been released from the final year of his contract. He's expected to sign with the Florida Marlins, who move into a new ballpark in 2012. If that happens, the Marlins will send two minor leaguers to the White Sox. So, in effect, Guillen has been traded -- a rarity for managers and head coaches.
He joins these previous skippers who were parties to trades:
MLB:
• After the 2002 season, the Mariners allowed Lou Piniella to become manager of the Devil Rays. In return, they got outfielder Randy Winn from Tampa Bay.
• Prior to the 1977 season, the Athletics permitted Chuck Tanner to become manager of the Pirates, in return for catcher Manny Sanguillen.
• In 1960, Joe Gordon was the manager for the Indians and was traded to the Tigers for their manager, Jimmy Dykes.
NFL:
• After the 2001 season, the Raiders allowed head coach Jon Gruden to sign with the Buccaneers in exchange for first- and second-round draft picks in '02, a first-round pick in '03 and a second-round pick in '04, plus cash.
• A day after Bill Belichick was hired to replace Bill Parcells as head coach of the Jets in January 2000, Belichick quit. Later that month, the Patriots signed Belichick to a five-year deal as their head coach, but they gave the Jets their first-round draft pick in 2000, a fourth-rounder in '01 and seventh-rounder in '02. The Jets gave the Patriots a fifth-rounder in '01 and a seventh-rounder in '02.
• In February 1997, the Jets tried to hire Parcells as head coach, but the Patriots wouldn't let him out of the last year of his deal with New England. The Jets tried to name Belichick, then a Parcells assistant, as head coach and Parcells as a consultant (the Jets were going to give up two first-round picks in '97 for Parcells), but commissioner Paul Tagliabue rejected the deal. Six days later, the teams came to an agreement making Parcells head coach of the Jets (with Belichick as an assistant). The Patriots received the Jets' third- and fourth-round picks in '97, a second-round pick in '98 and a first-round pick in '99. The Jets also contributed $300,000 to a Patriots charity.
NBA:
• In June 2007, the Heat allowed Stan Van Gundy to leave the team and become head coach of the Magic in exchange for a second-round draft pick in '07 and another second-round pick in '08.
Information provided by ESPN Stats & Info.