With apologies to Jerry Lawler, Richard Petty and LeBron, this is a sports card fit for a king.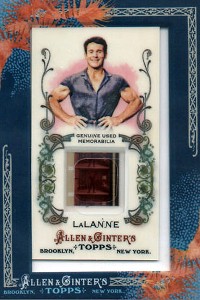 Courtesy of ToppsJack LaLanne, who died in January at the age of 96, has a card.
A fitness king, that is.
Although he died in January at age 96, Jack LaLanne's legacy as a fitness champion can be found celebrated in packs of baseball cards released by Topps as he appears on his first widely produced collectibles.
Designed with the look and name of 1800s tobacco cards, this year's Allen & Ginter set includes a Relic -- that's hobby jargon for a card with a piece of something in it, typically a swatch from a game-used jersey -- with a frame or two from one of LaLanne's fitness films embedded into it.
LaLanne's Relic typically sells for upwards of $15, sometimes less, according to the Beckett.com database. He also appears on a regular card in the athlete and celebrity-laden set alongside the likes of retired WWE star Shawn Michaels, Jason Acuna -- aka Wee-Man of Jackass -- and boxing star Manny Pacquiao among others.
LaLanne's television workout shows began in 1951 and ran into the 1980s while he also published numerous books about fitness, owned several gyms and pitched products. Despite all that, though, he never appeared on a Topps card.