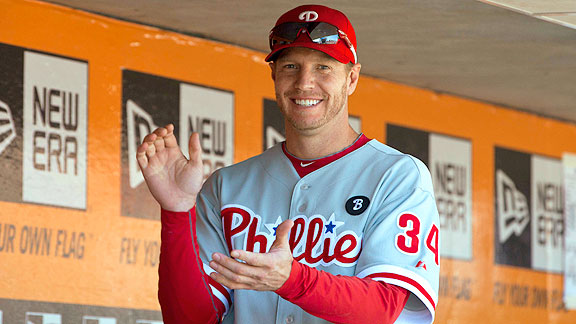 Jason O. Watson/US PresswireAre you ready for the postseason? Roy Halladay is.
1. Justin Verlander. It seems like this could be Verlander's year, much like 1988 belonged to Orel Hershiser or 1965 to Sandy Koufax or 2001 to Curt Schilling and Randy Johnson. Now, it doesn't always work out this way: Bob Gibson, with his 1.12 ERA, lost Game 7 of the 1968 World Series; and Pedro Martinez couldn't carry the Red Sox past the ALCS in his dominant 1999 campaign. Verlander has thrown more innings and more pitches than any pitcher this year. Does he have five or six more 120-pitch outings in him?
2. Justin Verlander's 98-mph fastball. In the ninth inning.
3. Justin Verlander versus CC Sabathia, Game 1 of the Division Series. It's a rematch of Opening Day, when both pitchers went six innings and allowed three runs.
4. Roy Halladay, Cliff Lee and Cole Hamels. The Phillies' three aces led their team to a franchise-record 102 wins, combining to go 50-23 with a 2.51 ERA and an amazing strikeout/walk ratio of 652-to-121. It equals any season the famed Greg Maddux/Tom Glavine/John Smoltz trio put together. But as those three can affirm ... it doesn't assure a World Series title.
5. Phillies fans ... love 'em or hate 'em, they support their team with intensity and enthusiasm.
• Click here to read the entire list on ESPN.com's SweetSpot blog