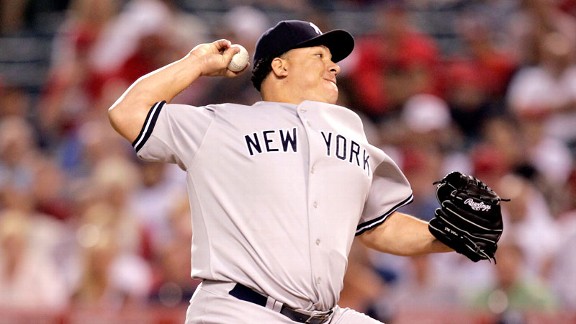 AP Photo/Jae C. HongNew York Yankees pitcher Bartolo Colon could be so money in Costa Rica.
We can't pay you to read this. At least not in monetary terms. But the intellectual benefits will be priceless. (Which, if you think about it, isn't that far from worthless.) With that ringing endorsement, we present Page 2's All-Currency Team:
Bartolo Colon: So the 38-year-old pitcher's career may be coming to an end. And he played for the Yankees this season for $900,000, a pittance for any veteran by modern standards. But if these facts get him down, he can console himself with this nugget: His 2011 salary was approximately 457,200,000 colons. The colon is the currency in Costa Rica, and the exchange rate on Jan. 1 was about 500 for every American dollar.
Cameron Dollar: Everybody remembers Tyus Edney's drive through Boise -- or at least a basketball court therein -- that lifted UCLA to a celebrated second-round win over Missouri, a precursor to the Bruins' NCAA title a couple of weeks later in 1995. But do you know who threw the pass? That would be our friend Cameron, now the head coach at Seattle University. This is one of the few times that history forgets the dollar.
Felipe Lira: The Venezuelan pitcher's money is no longer good in Italy, which dropped the lira for the Euro a decade ago. It's probably not particularly welcome in Detroit, Seattle or Montreal, either. Those are the cities in which Lira compiled a 26-46 record and a 5.32 ERA over a seven-year career. Then again, he had to be doing something right. He lasted more than 500 innings from 1995-2001 in Major League Baseball while putting up those numbers.
Hunter Pence: His last name is the plural form of penny, and that makes inquiring minds wonder. If compensated in pence rather than by or direct deposit, Hunter would take home about 700,000,000 coins this year. And that haul would weigh as much as 14 adult blue whales and would stretch from Philadelphia, his current home with the Phillies, to Milwaukee, where the Phils will play if they beat St. Louis in the ALDS. Pence finished the regular season No. 4 in batting in the NL.
Dick Pound: The Canadian lawyer is best known for crusading against drugs and Olympic corruption, both of which are driven by cash -- whether it's the yen or the dollar or the pound, the local currency for the 2012 Games in London. Pound has thrown his weight around quite a bit, opining on the presence of doping in hockey, cycling and just about anything else.