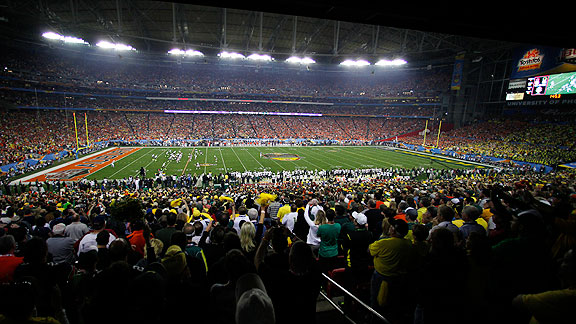 AP Photo/Charlie RiedelAt our proposed University of Phoenix, what would it be like at the stadium?
In 1991, a small group of University of Phoenix MBA students became the first college graduates to earn their degrees online. Back then, the whole concept -- going to school on the Internet -- probably seemed silly.
This is when "Oregon Trail" was at the cutting edge of computer gaming, when logging on to the Internet meant humming along to this catchy melody for 30 seconds.
It made sense to use the Web for help with schoolwork, but how could you actually go to school on the Internet? It's "You've got mail," not "You've got class."
Well, today, 398,400 students have class at the University of Phoenix, a predominantly online institution that ranks as the nation's largest private university. The school offers more than 100 degree programs and has advertisements all over the Web.
It doesn't, however, have an athletic program.
A University of Phoenix spokesperson said the school had no comment on whether or not there are plans for athletics in the near future. And that's quite puzzling.
A pioneer in this new digital era, Phoenix already has a tailor-made NCAA football recruiting pitch: Its name is on a state-of-the-art facility (the Arizona Cardinals play their home games at the University of Phoenix Stadium, which holds 63,400 fans) and it provides a college experience that LSU, Alabama, Notre Dame or Oklahoma simply cannot match.
Put yourself in the shoes of an 18-year-old kid deciding on a college. Let's examine life at a major program versus the life you'd have at the University of Phoenix. You decide what's better.
TRAINING CAMP
At current Division I programs: Boise State safety George Iloka says the Broncos are up at 6:30 a.m. and not finished with football activities -- meetings, workouts, conditioning drills -- until 9:30 or 10 p.m. UConn cornerback Blidi Wreh-Wilson is a bit more descriptive: "You see people looking at their pads like they want to cry."
At the University of Phoenix: The meetings are unavoidable, which means you should be efficient about everything else: Lift and condition on Monday, change clothes in between sets and take enough photos of yourself to last until Friday. TwitPic these photos daily so Coach doesn't become suspicious.
ROOKIE HAZING
At current Division I programs: Aside from the cliché "carry my bag" or "sit against the goalpost while we tie you up and spray silly string in your face," freshmen are sometimes asked to perform skits and sing for the upperclassmen. "We had to do solos," says Oregon tight end David Paulson. "That wasn't too fun. I don't even remember what I did -- I try to block it out."
At University of Phoenix: Two choices: lip-synch a famous song or take a photo on FatBooth and make it your Facebook profile pic for a week. Coaches strongly recommend FatBooth; it's kind of like a "voluntary" practice.