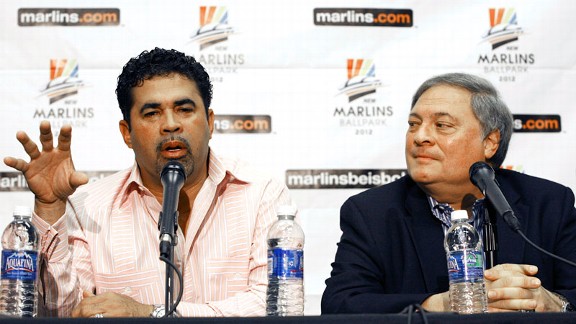 AP Photo/J Pat CarterThe relationship of Marlins manager Ozzie Guillen and owner Jeffrey Loria could lead to fireworks.
Get ready for baseball's newest odd couple. Expletive geyser Ozzie Guillen is officially yoked to the Marlins and will now answer to owner Jeffrey Loria, whose crotchety, temperamental ways are bound to drop a wet blanket on the new manager's fiery disposition. They say that opposites attract, but it's hard to imagine these two making small talk in an elevator, let alone making it through spring training without someone getting strangled. Consider their differences:
Loria once wrote a book about collecting fine art.
Guillen
once beat up a professional wrestler with a chair on national TV.
Loria heads an organization that demoted left fielder Logan Morrison for posting lewd tweets.
Guillen
was once suspended for tweeting about an umpire during a game.
Loria keeps a revolving door for Latino managers, having overseen tenures from Edwin Rodriguez, Felipe Alou (the winningest Latino manager in history), and Fredi Gonzalez (fired following two winning seasons with the smallest payroll in the league).
Guillen
is a Latino manager coming off a losing season.
Loria majored in art history at Yale.
Guillen
stopped school at eighth grade.
Loria likes the work of Miro, Picasso and Lichtenstein.
Guillen
likes "Cake Boss," Arsenio Hall, and Macho Man Randy Savage.
Loria nearly fired Joe Girardi in 2006 -- the season he won NL Manager of the Year -- for a disrespectful comment he made during a game.
Guillen
couldn't make it through a meeting with the Pope without using all of George Carlin's seven dirty words.
Loria likes playing the cheapest players money can buy.
Guillen
likes playing obscenely expensive players as a matter of principle, even if they're batting .160 for the season.
Maybe if Guillen can figure out how to channel his aggression into painting he can get on his new boss' good side. But considering that the most Loria had to put up with from his previous manager was the occasional tale about World War I, it's doubtful this professional relationship will make it past first base. At least Guillen can take comfort knowing he'll literally have dozens of fans cheering for him, no matter how badly things go.