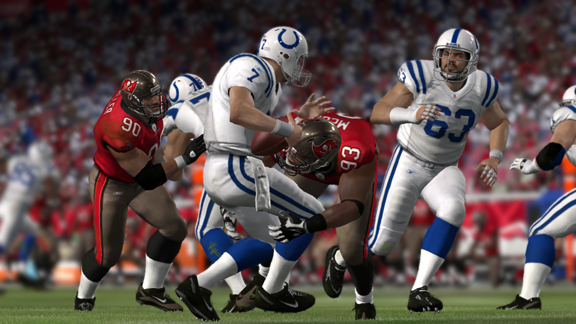 EA Sports
We try to answer all of these questions and more Every NFL game this week has been simulated with the help of EA Sports and "Madden NFL 12" using the game's advanced artificial intelligence, complete with winners, statistical leaders, and even the player of the game.
Check out who "Madden" thinks is going to win before the games are even played, including Monday night's game, the Indianapolis Colts visiting the Tampa Bay Buccaneers:
---
While all eyes are on Curtis Painter to start the game, LeGarrette Blount steps in and steals the show, rushing for 110 yards and two touchdowns to help the Bucs pound out the 24-10 win. Painter didn't do too bad in the sim, throwing for 213 yards and one score, but his two interceptions were huge, costing the Colts any chance of a late comeback.
Click here for a box score and game leaders.
To see how the rest of this week's games fared in the simulation, visit The Gamer blog's Madden NFL 12: Week 4 Simulations »