Every Ironman competitor -- professional athlete or weekend warrior -- has to have motivation to complete the grueling race. The will to finish is different for every entrant, but Matt Michelsen is probably the only participant in Saturday's Ironman World Championship in Kailua-Kona, Hawaii, who will say, "Well, I made a million-dollar bet with 50 Cent."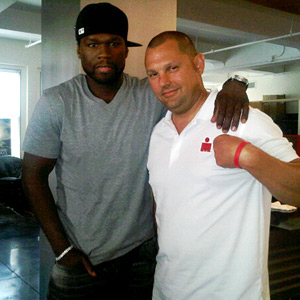 Matt MichelsenMatt Michelsen was urged by Lady Gaga and 50 Cent to compete in the Ironman World Championship.
"He said I couldn't finish it," Michelsen, an entrepreneur and founder of social media company The Backplane, added with a laugh.
While 50 Cent has money riding on the race, it was Lady Gaga who got Michelsen to consider entering the grueling triathlon in the first place. The race consists of a 2.4-mile swim, 112-mile bike and a 26.2-mile run.
Michelsen was turning 40, and the singer, a friend and social media client, asked him what he wanted to improve upon in his life. After gaining 35 pounds over the last decade, he said fitness. Gaga mentioned a marathon, but Michelsen figured he could at least walk to the end of a marathon. That's when Gaga suggested he take part in "the crazy race in Hawaii" that his brother-in-law had done in 2010.
To prepare, Michelsen began a rigorous training schedule, working out for at least an hour a day before work during the week to seven hours a day on the weekend. He enlisted Roch Frey, the guy who literally wrote the book on the Ironman, as a coach.
Once word of his training got out, 50 Cent, one of Michelsen's business associates, made the wager. The money won't actually go to Michelsen but would be donated to the rapper's SK charity, which seeks to fight hunger in Africa and feed 1 billion children.
Big names aside, Michelsen said his real goal is to show people that they should believe in themselves. He hopes people will see that if a 40-year-old guy in average shape can pull off an Ironman in five months, then anyone can work to improve areas of their lives where they aren't quite satisfied.
"The million dollars, that's great," Michelsen said. "The one thing I want to convey is that if I can do it, you can do it."
Given Michelsen's social media clout, don't be surprised if you see that message go viral on race day.