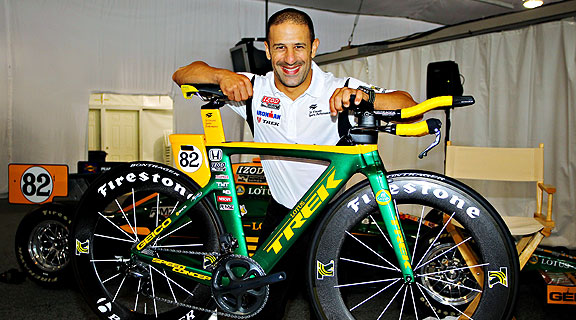 Courtesy of Ironman Ironman competitor Tony Kanaan said, "Racing is my priority. Training in triathlons, it's my hobby."
Tony Kanaan knows he works out too much.
Fellow IndyCar driver Dario Franchitti tells him as much every day.
To be fit for driving, Kanaan already works out twice a day, cardio in the morning then weights in the afternoon. It's been his routine for 15 years. Now the Ironman thing? That's a more recent development.
"There's not a lot of balance, it's either racing or training," said Kanaan, who will compete in the Ironman World Championships on Saturday in Hawaii. "Dario always asks me, 'Do you really have to do 100 miles on the bike today? Why are you doing this?' Those are the things you face. I like it because it makes you stronger, it's a way to keep me going."
Back in the '90s, Kanaan swam, ran and cycled, but it was a matter of putting the three together into a triathlon. He won the first-timers division of a local race in Florida and was hooked.
The Ironman, however, presents a different animal. A 2.4-mile swim is followed up by a 112-mile bike ride. Oh, and there's the full 26.2-mile marathon afterward.
"It's about knowing my body and my limits and getting better for myself. That's what's actually fascinated me the most," Kanaan said. "I've been racing for almost 28 years, and to me, you can always finish a race and see why it didn't go well. Triathlon, you look at yourself, say, 'OK I've got to train a little more.' It's only up to you."
Still, Kanaan said, racing will always be priority for the 14-time IndyCar race winner. But he's not ruling out ramping up the triathlons once his driving career is done.
"Honestly, racing is my priority. Training in triathlons, it's my hobby," Kanaan said. "I never let the two cross. It's not even a factor for me. I'm a professional race car driver, not a professional triathlete. It only helps keep me healthy, and I never cross the two, otherwise it wouldn't work out."