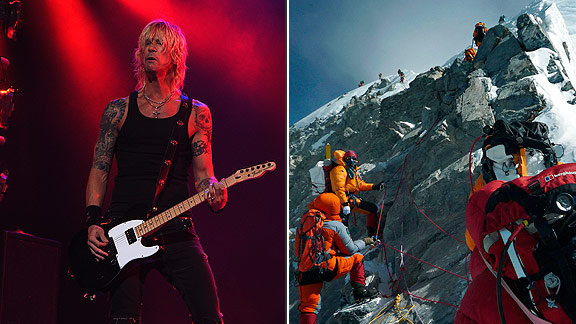 Getty Images
No doubt some of you reading here are the types who may fit the category of "active." You may snowboard, kickbox or train in mixed martial arts, skateboard, fly planes, surf, climb mountains. Or perhaps you simply run, ride a bike or go to the gym. A whole higher-echelon level of these types of people simply take things to the extreme -- and some even become a pro in any of these above-mentioned disciplines.
I, myself, go hiking from time to time with a friend of mine, Tim, who is constantly training for some high-altitude mountain someplace on this planet. He is a true mountaineer and has made the summit of some of the biggest mountains in the world, including Mount Everest and Mount Denali.
Me? Oh no, no. I just tag along on some minor peaks with him when I am down in Southern California. Last weekend we "bagged" the summit of 10,000-plus feet Mount Baldy, an arduous scramble but nothing to really write home about.
But we have done Baldy in the winter, too, and during that season up there you will inevitably hear about someone falling off. Falling off a mountain rarely ends up good.
I am an extreme guy. I like dangerous stuff and also like to test myself, from time to time, to see what I "have." Even on these little peaks, plenty of what they call "exposure with consequence" takes place. A nice way to say that is "if you fall, you die." I hope my wife doesn't read this column. …