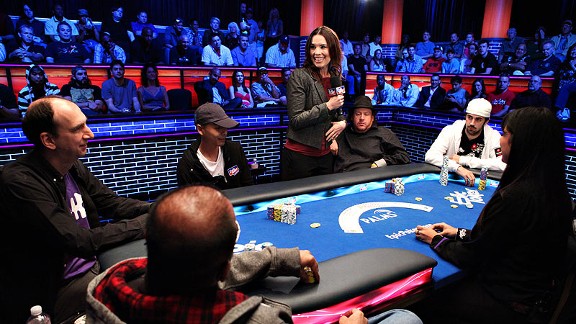 Getty Images for Epic Poker LeagueThe Epic Poker League and commissioner Annie Duke will be on CBS and Velocity Networks.
Annie Duke, easily the most famous female poker player in history, has a strange designator for herself: "I put myself in the category of 'accidental role model.'"
Duke, who has more than $4 million in career earnings, is now commissioner of Epic Poker League, which just recently announced that it had landed a TV deal with CBS and the Velocity networks. The league's first year will feature 20 hours of original television programming, seven on CBS and 13 on Velocity, starting this weekend.
And Duke, who gave up a career in psychology to play poker, realizes that being a female in such a prominent position comes with responsibilities, and she doesn't take it lightly. Only about 3 percent of the poker players are women, and that number hasn't changed in 10 years.
"Growing up, my family didn't put limitations on me," said Duke, whose brother is a pro poker player and whose sister wrote a book on the poker family. "The phrase 'Glass Ceiling' was never in my vernacular. I only started noticing something was strange when I began playing poker and I didn't notice any women around in the game that I love!"
The Epic Poker League, which began in August, is exclusionary in that it is only open to poker players who have met certain qualifications, so it's mostly veterans of the game instead of the one-week wonders.
"We set it up like the PGA where you basically have to qualify to get in," Duke said. "This is what poker has been missing. Fans want to see the best go head-to-head."
And Duke is as passionate about the game as when she began in 1994.
"Poker is not just old men gambling in the backrooms," said Duke, who lives in Los Angeles with her children and fiance Joe Reitman. "I'm a poker player. I'm a mom. I'm a businesswoman. I'm doing so much just to nourish my soul."