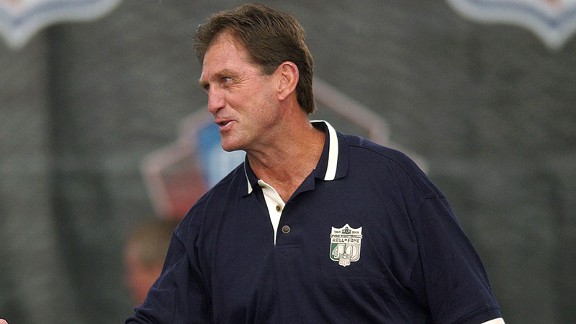 David Maxwell/Getty ImagesJack Youngblood, who has a new book out, was elected into Pro Football's Hall of Fame in 2001.
In 1988, NFL Hall of Famer Jack Youngblood, along with author Joel Engel, wrote his autobiography, "Blood." That was just a few years after he retired as one of the best defensive ends in history.
On Thursday, Youngblood, along with author D.W. Cooper, stopped by ESPN's campus to promote their new book "Because It was Sunday: The Legend of Jack Youngblood."
"This one is the real story about me and my life," said the 61-year-old Youngblood, who was born in Jacksonville, Fla., and graduated from the University of Florida before playing 14 years with the Los Angeles Rams. "I think that first one, I was too close to the fire. I still thought I could play. I probably could have. Hell, I probably should have."
Youngblood's accolades are legendary: seven-time Pro Bowler, 151.5 career sacks, defensive player of the year several times, and, of course, playing the 1979 playoffs, including Super Bowl XIV with a broken leg.
John Madden, the Hall of Fame coach, loves saying this: "If a Martian landed in my backyard, knocked on my door, and asked me, "What's a football player?', I'd say 'Go get me Jack Youngblood.'"
NFL Films named Youngblood one of its "100 Toughest Players of All Time", and The Sporting News, and several other magazines, called Youngblood one of the hardest-hitting players of all time.
"When I played, it was all about that one play. It wasn't about the future. It wasn't about the money," Youngblood said. "That's why I like players today like Jared Allen, Robert Mathis and Brian Urlacher. They just play because they love playing. They think about the team and not about themselves. That's how we did it."