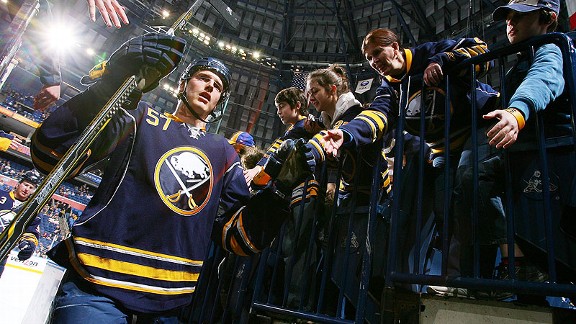 Bill Wippert/NHLI/Getty ImagesTyler Myers and the Sabres are the muses of a fiercely loyal fan base in Buffalo and western New York.
There's every indication this could be a memorable NHL season in Buffalo, where the Sabres have suddenly amassed one of the league's highest payrolls and lofty expectations to match.
That could, in turn, make for a memorable film for Mary Wall, who will spend the season following the team and its fans for a documentary.

Wall, a native of Hamburg, N.Y., just south of Buffalo, works as a production assistant on the NBC comedy "The Office." She's also a Sabres fan, dating to the days when players such as Hall of Famer Gilbert Perreault and Mike Foligno patrolled the ice at the old Memorial Auditorium. She plans to follow the team all season and tell the stories of people who love their city and their hockey team.
The Sabres have been in business for 41 years and have never won the Stanley Cup -- though they've come close. Buffalo has been in business for centuries and is trying to get back a measure of the prosperity it once enjoyed. Wall sees parallels between the city's struggles to rebuild and the team's quest for the Cup -- and the resilience both have shown.
"Frankly, if the Sabres won a Stanley Cup, I couldn't make this documentary any more. I had to make it before they won the Cup, and if it happens while I'm shooting, that would be delightful," she said in an email.