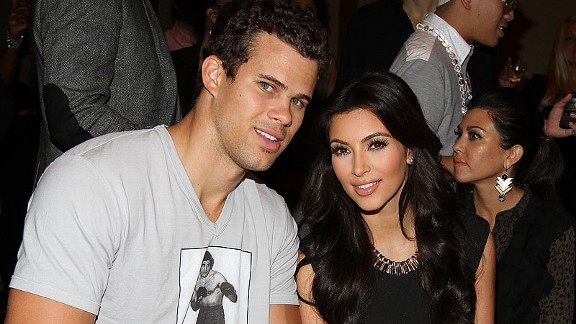 Jerritt Clark/WireImageOn Sunday and Monday, E! is televising the wedding show of Kris Humphries and Kim Kardashian.
On Sunday and Monday, reality star Kim Kardashian and NBA player Kris Humphries will once again be married -- a two-night event called "Kim's Fairytale Wedding" on E!
The question is whether Humphries, who has been playing in the NBA for seven years, will even turn on the TV.
"To tell you the truth, I don't really watch the show that much," said Humphries, who began on the "Keeping Up with the Kardashians" in the spring. "I can watch myself on TV playing basketball but I don't really watch my own show. It is what it is."
The duo started dating last year and they married on Aug. 20 in Montecito, Calif., a city near Santa Barbara. About 500 guests attended the reception for the wedding, which reportedly cost about $20 million.
For Humphries, he said the marriage works because "Kim has a great heart" and "I'm there to just keep it real." And the preview clips show Humphries being honest not only with Kim but the whole family -- whether they like it or not.
"That's who I am. That's what Kim loves about me. I know the producers are going to make it more dramatic," Humphries said. "It just comes with the territory. Kim has been doing this for a long time and so have the family. I just became a part of it. How do you think I'm portrayed on the show?"
Now, with the NBA in a lockout, Humphries has been busy working out and taping more scenes for one of the Kardashian shows.
"After a while, I didn't even realize the filming. I know it might seem tough to be yourself but you get used to it," Humphries said. "The filming has been a good diversion, really, to keep me busy, but I'm just itching to play basketball."