The "ah-ha" moment for Joe Bastianich came when he stopped looking at food as a reward, a big step for a world-famous restaurateur and competitive cooking show judge.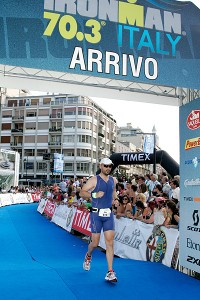 Courtesy of Ironman ChampionshipJoe Bastianish is as passionate about staying in shape as he is about food.
Rather than eat for pleasure, Bastianich began viewing the production of his work as fuel for athletic ambitions. That, he said, was the tipping point.
On Saturday, Bastianich will compete in the Ironman World Championships in Hawaii, a far cry from where he said he was 20 years ago.
"Back then, I'd be out of my mind, this is as far from where I was as I could possibly be," said Bastianich, who judges the cooking show "Master Chef" on Fox. "I think I'm ready to do it. I'm certainly ready in my mind."
Like most triathletes, Bastianich was an avid marathon runner looking for the next step when someone recommended swimming as a method of minimizing injuries. The biking part came naturally.
"It was all part of a health overhaul I had in my life," Bastianich said. "I had some health issues, a little overweight, started taking care of myself, a point in my life where I took the rein on things."
By now, training has become a part of his lifestyle. He brings his 11- and 12-year-old sons on bike rides, and they've both competed in local youth triathlons, though the two won't be traveling to Hawaii.
And given that he often lives on the road in Europe, he's had to get creative about training for the 2.4-mile swim, the 112-mile bike ride and the full marathon at Ironman.
"In any business, you have to be creative and you have to make the best out of situations," Bastianich said. "It's a part of who I am at this point. Aside from the euphoria and the finish-line feeling, which is one of the greatest in the world, training gives me a sense of balance in my life that I really need."