It's a good time to be R.J. Umberger right now. The Blue Jackets forward is entering his seventh year in the NHL and is coming off a 57-point season, a career high.
Oh, and he just signed a 5-year, $23 million contract extension.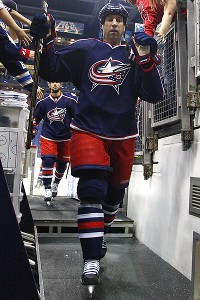 John Grieshop/Getty ImagesR.J. Umberger of the Columbus Blue Jackets, now in his seventh season, watches what he eats.
SportsandFood.com caught up with the Blue Jackets' alternate captain and asked him about the first meal he had after becoming a very rich man, his typical game-day routine and more.
SportsandFood.com: You just signed a pretty lucrative extension. What was the first meal you had after inking the deal?
R.J. Umberger: I actually didn't do anything special. I signed the contract the morning of an exhibition game so my first meal afterwards was my normal pregame meal of chicken and pasta.
S&F: Has your approach to diet and nutrition changed since you were drafted in 2001?
Umberger: Yeah, I am more aware of what I am putting into my body now. I try to have well-balanced dinners and make sure I am getting enough green vegetables. I make sure I am getting the right supplements in me, especially post workout protein shakes and my daily vitamins. The other biggest thing that has changed is my efforts to stay hydrated with water and electrolyte drinks.
• Read the entire article on Sports and Food.