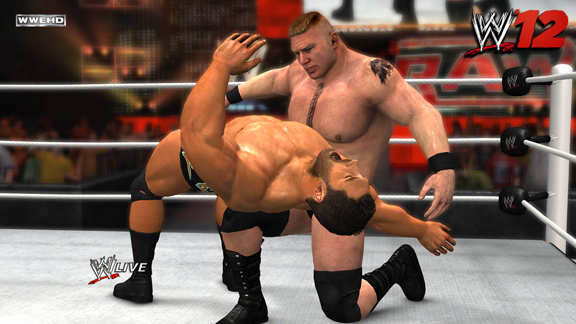 THQBrock Lesnar returns to the ring in the new video game "WWE 12."
My favorite thing about WWE video games? The ability to book dream matches. From "Stone Cold" Steve Austin versus CM Punk to Shawn Michaels taking on The Rock to Andre The Giant squaring off against The Big Show, the last few WWE games have given me the ability to play out matches that wrestling fans have drooled over and debated about years.
"WWE 12" (November 22, Xbox 360, PlayStation 3, Wii) is about to take dream matches to another level thanks to the inclusion of former WWE champion and current UFC badass and master of the beatdown, Brock Lesnar.
That's right, the man once dubbed "The Next Big Thing" in the squared-circle is now the next big thing in video games as he will be included in "WWE 12's" main roster, ready to do battle against everyone from John Cena and Alberto Del Rio to Randy Orton and Sheamus right out of the box.
I had the chance to ask Lesnar about his surprise appearance in the game, his WWE career, and the chances we'll ever see him in a wrestling ring again. Here's what he had to say.
Jon Robinson: What does it mean to you that you're being brought back to the ring in "WWE 12" as a legend?
Brock Lesnar: What does it mean to me? I think it's an honor to be back. You know, I never had any really true hard feelings for WWE. It just wasn't for me. I think during the time that I spent there, I dominated the show. I was probably one of the true athletes in the company and for them to have me back in the video game, I think there's some mutual respect between the both of us that says, "job well done" and "you are and were one of the great ones."