Everyone needs more Tim Tebow in their lives.
And now you can have your own little Tebow on your desk, coffee table -- maybe even on your credenza.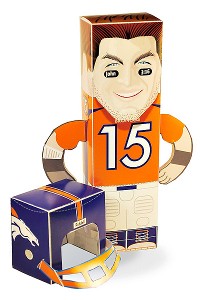 Denver Post
The Denver Post knows the power of Tebowmania, and is getting in on the action. The paper created the "constructible, 3-D Tim Tebow desktop doll" available for download on (where else?) the Tim Tebow section of its website.
The Post has created three varieties: In orange, in blue, and a Tebow helmet.
Jeff Goertzen, the Post's graphics director, said the paper has done several of these projects in the past, beginning with a Broncos hat several years ago.
"We did a whole series of Desktop Rockies when they went to the World Series," Goertzen said. "We thought, 'Hey, let's do more of this stuff that gets the readers participating."
And when Tebow was named the starter this week, he knew it was time to give him the desktop treatment.
"We're hoping to get several thousand downloads. He really drives our daily hits on the website," Goertzen said.
The Tebow dolls were created by Post artist Severiano Galvãn and were only available online because they're easier to build with heavy-stock paper instead of newsprint.
Goertzen said Tebow's popularity extends far beyond Denver, and knows there are already Florida fans downloading them.
"A lot of Gator fans want to get in on the action," he said. "We even thought about doing a Gator jersey for him."