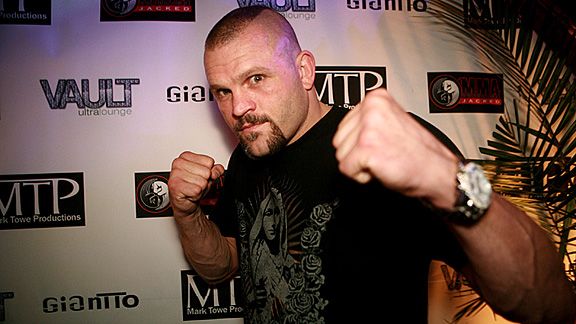 AP PhotoUFC Hall of Famer Chuck Liddell will rappel 51 stories in Las Vegas to benefit the Special Olympics.
Breaking news: UFC Hall of Famer Chuck Liddell is a tough guy.
But he's never done anything like what he's about to do Saturday -- rappel all 51 stories of the Rio All Suite Hotel & Casino in Las Vegas.
"It should be interesting," said Liddell, whose related experience includes just a few workouts on a rock wall and a demonstration or two -- but "nothing that high."
But he's committed to doing it, because of the cause: The Special Olympics, which he long has supported, and which is the beneficiary of this "Over the Edge" event that also comprises some local celebrities and had raised more than $56,000.
Liddell, who retired from the octagon with a 21-8 record, said his wife, Heidi, originally wanted to join him in the drop. But she now is pregnant with a girl -- due in late December, Liddell said -- and obviously can't fall the 51 floors.
Liddell said he himself will make some adjustments once the due date nears, likely cutting back his road schedule as UFC's vice president of business development because "I want to be around when my baby is born."
But for now, he's ready to tick another box on his resume of toughness.
"It's something different," he said. "But if it looks crazy and gets some attention for the cause, I'm all for it."