Welcome back to another edition of Page 2 Jeopardy!, the quiz that tests your knowledge of sports, pop culture and assorted trivia. Please remember to phrase your responses in the form of a question.
(Correct questions at the end of the quiz.)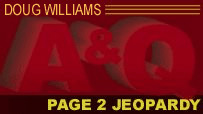 1. Answer: These three organizations traded away outfielder Nelson Cruz before he became an All-Star-caliber outfielder for the Texas Rangers.
2. Answer: They have the "Apocalypse Now" defensive line.
3. Answer: This runner had his third-place medal stripped and he may be banned from future marathons in Great Britain because witnesses turned him in for this no-no.
4. Answer: After appearing in a couple of commercials, Giants closer Brian Wilson came under a snark attack by this pitcher, who tweeted (and later apologized): "Does Brian Wilson play baseball or work in Hollywood? I can't tell but his Taco Bell commercials are a joke."
5. Answer: He's the batting coach for the NL's No. 1 team for batting average and runs scored in 2011, but describes himself more as a psychologist.
Question 1: Who are the Mets, A's and Brewers ?
Question 2: Who are the Detroit Lions?
Question 3: What is riding five miles on a spectator shuttle bus?
Question 4: Who is Bud Norris?
Question 5: Who is Mark McGwire?