One of the biggest sports stories in recent memory broke earlier this week when the Denver Broncos announced that lightning rod quarterback Tim Tebow, only one of the most scrutinized athletes of all time, would make his first start of the season next week in Miami.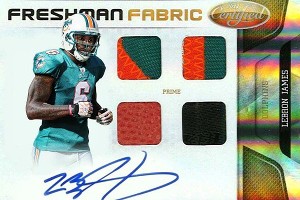 Courtesy of PaniniLeBron James joked about the NFL, so Panini decided to envision his trading card.
That's a huge story for sure. But what if it got even bigger?
What if all of this chatter surrounding the dreamy hypothetical of NBA superstar LeBron James taking his talents to the gridiron came to fruition and LeBron traded his Miami Heat jersey for something just a little more teal? And what if he made his first start for the hometown Miami Dolphins next week in an instant classic ratings bonanza against Tebow's Broncos?
We tend to think in terms of collectibles here at Panini America, so our thoughts turned immediately to the Rookie Card ramifications of James jumping the shark (or, in this case, the dolphin) and landing on the gridiron.
What would his first fully licensed NFL trading cards look like? And perhaps more importantly, how much money would they command on the secondary market? Glad you asked.
We conceptualized that very scenario with two of our upcoming NFL trading card products, 2011 Absolute Memorabilia (live everywhere next week) and 2011 Certified (due out November 2) and came up with two different James Rookie Cards, both including a piece of James-worn jersey and complete with his autograph.
To read the rest, check it out here at Panini America.