Formed while students at Louisiana State University, Better Than Ezra is returning to its roots. The platinum-selling rockers recently recorded "Death Valley," an EP devoted to their love for their alma mater. The seven-song EP, named for LSU's intimidating Tiger Stadium, features a modern take on songs popularized at LSU tailgates and by the school's Tiger Band.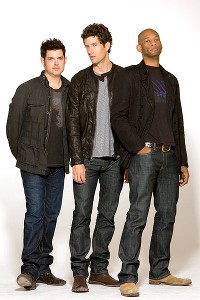 Rick OlivierBetter Than Ezra, from left, Tom Drummond, Kevin Griffin and Michael Jerome formed in Baton Rouge, La., in the early 1990s.
"LSU football has been a part of our DNA since our first practice just off campus in 1988," bassist Tom Drummond said. "We always talked about recording our favorite game-day tracks Better Than Ezra-style. For us to be able to come back to LSU and record the songs is a dream come true."
Currently working on their eighth studio album, Drummond and lead singer Kevin Griffin took some time to talk with The Life about the top-ranked Tigers, national championships, Dennis Quaid, and of course, "Death Valley" (iTunes | Amazon), which will be available Tuesday.
The Life: You guys formed while students at LSU, so I'm guessing there's a genuine love for this project.
Griffin: We formed in the spring of 1988 while we were students at LSU. I got Tom through The Daily Reveille, the LSU student newspaper, posting for a bass player. We cut our teeth at the parties on campus and bars around town. We always talked about redoing these classic LSU fan chants that the Tiger Band made famous and songs people sang while tailgating, and now we're finally getting around to doing it. Plus, LSU is having a great year, so for us it's a fortuitous series of events.
The Life: So you guys were there in '88, Were you guys part of the Earthquake Game? (Editor's note: Unranked LSU upset No. 4 Auburn, winning 7-6 on a late TD pass from Tommy Hodson to Eddie Fuller. The crowd's reaction registered on a seismograph in LSU's Howe-Russell Geoscience Complex.)
Drummond: I was there for that.
Griffin: I can't remember, but I had to be, I was in school then. Maybe I was drunk.