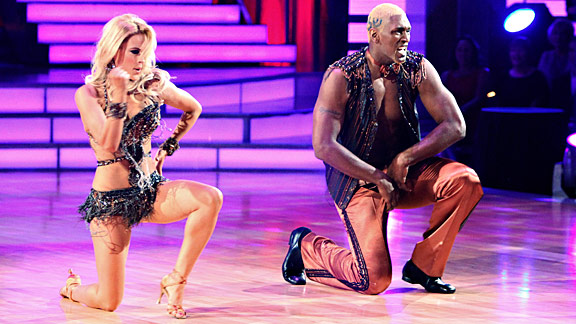 ABC/Adam TaylorMetta World Peace has had a busy year in the entertainment business away from the court.
Metta World Peace (formerly Ron Artest) is spending the NBA lockout working on his Plan B.
And C. And D. And maybe E.
Known for his hoops skills, he's been dancing, acting, rapping, managing (his children's music careers), boxing and training for MMA fighting. And if he gets his way, he'll play a little football too.
On Tuesday night, World Peace guest stars in BET's newest series "Reed Between The Lines," where he plays a basketball player who seeks therapy for his anger issues. The show airs Tuesday nights at 10 Eastern.
Page 2 caught up with World Peace -- or go ahead and call him Artest. He doesn't care what you call him, really.
You've been going full throttle in the entertainment industry this year; was this your master plan?
"Definitely. I didn't want to start once it's over. I wanted to start early. So once my career's over, I should be ready to shoot movies. I'm just doing a lot of TV now just to get people ready to see me on the big screen."
What made you say yes to this particular role on the BET show?
"It made sense because it reminded me of 'The Cosby Show.' We haven't had a show like that in a long time. A lot of the shows don't teach kids how to become a good dad, to be a good family man. It doesn't teach girls how to be a wife."
Tracee Ellis Ross' character is a therapist, and that's something that you've been vocal about, so much that you have been donating money to mental health organizations. Was that also an appeal for you to do this show?
"Yes. This is the perfect thing for me to play a role like that to help get my message across. I get to show people what I was talking about after the championship game, and I'm still perusing it."