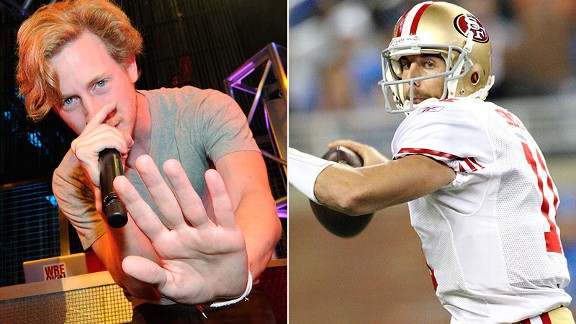 Getty ImagesRap star Asher Roth and 49ers quarterback Alex Smith have followed an uncannily similar career arc.
Sports. Oh, sports.
Such an unfortunate obsession. Great for high stress levels and weekly letdowns but hardly any help keeping my girlfriend happy. Why do I care so much about something I have no control over?
Sure, the San Francisco 49ers have a higher win percentage when I wear my Ronnie Lott jersey. And of course it matters who's with me and where I'm sitting in the living room. But few things mean more to us beer-drinking, number-donning brutes than a W on game day.
Oh sports, what a brutal relationship we have.
Raised close by the sports-crazed city of Philadelphia I had no choice but to become a devoted fan. As attractive as it was to root for Rodney Peete, Bobby Hoying and the Detmer Bros. it wasn't enough to uproot my allegiance to my father and his love for Bill Walsh. Both with ties to Stanford and an admiration for the West Coast Offense, I inherited a 49ers ballclub and a Jerry Rice jersey before I even knew how to play the game.