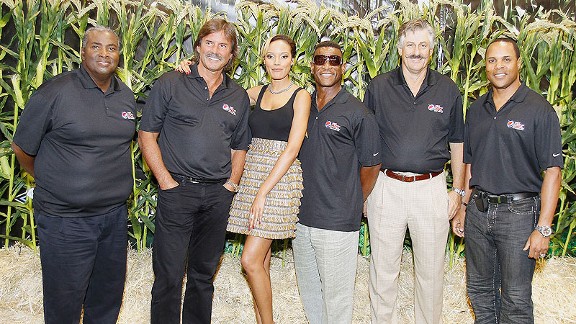 Mike Moore/Getty ImagesEarlier this summer, Tony Gwynn, Dennis Eckersley, model Selita Ebanks, Rickey Henderson, Rollie Fingers and Barry Larkin pose for the promotion. Gwynn, Eckersley and Henderson made the team.
Baseball Hall of Famer Dennis Eckersley is one of the living legends named to MLB.com/PepsiMAX's "Field of Dreams" team that was put together for a promotion to play a baseball fan and his friends next spring.
Fans could cast up to 25 votes per day to vote for their favorite living legend. Each ballot went toward the drawing of an eventual fan winner.
And that person was Tim Wisecup, a chemist, from just outside Columbus, Ohio.
So Eckersley along with the rest of the "Field of Dreams" team will head to Columbus next spring to play against Wisecup and 10 of his friends.
"You know it's still going to be cold at that time. Couldn't he have lived in Florida?" Eckersley joked on Thursday while visiting ESPN. "I'm going to have to start warming up my body and especially my arm, right about now."
Eckersley, 57, was elected to baseball's Hall of Fame in 2004, gaining nearly 200 victories and nearly 400 saves for six teams. He won a World Series title, Cy Young and was a six-time All-Star. He currently works as a studio analyst for the Boston Red Sox on NESN and helps TBS with its postseason coverage.
The lineup for the "Field of Dreams" team, along with Eckersley is: Randy Johnson (starting pitcher), Johnny Bench (catcher), Frank Thomas (first baseman), Rod Carew (second baseman), Mike Schmidt (third baseman), Cal Ripken Jr. (shortstop), Ken Griffey Jr, Tony Gwynn and Reggie Jackson (outfielders); and Edgar Martinez (designated hitter).
"My thinking is that Randy still has his stuff. Maybe they won't even need me in the game!" Eckersley said. "We have a lot of power, so we're looking at gaining a big lead. I haven't thrown in years. I'm going to do enough just to get by!"